Pan Asia International School recently held its annual graduation ceremony on May 25, 2019, at the Al Meroz Hotel. Now on its 8th year of producing competent and world-class graduates, PAIS looks back on this year's Grade 12 achievements while looking forward to their university days ahead.
This year's commencement produced 27 graduates, most of them are going to prestigious universities both here and abroad. The program started with the opening ceremony led by Mr. Robert Ceisler and Ms. Woraporn Napawut, then the academic procession of the graduates came next with DP Coordinator, Mr. Sujith Kandathil and the homeroom teachers, Mr. Adrian Lee and Mrs. Amani Naim Ahmad Saleh, leading the way.
It was followed by introducing the guest of honor, the Former Minister of Thailand Mr. Kasit Piromya. The School Chairman, Dr. Husni Hamad, welcomed the graduates afterward. Mr. Kasit presented the Diplomas and Special awards. Xiru 'Alice' Lyu was hailed as the Student of the Year. Omar Nizar Khaled Hanun got the Non-Academic Award and Fadee Poompatch received the Academic Award. Mr. Kasit later delivered his inspiring speech. The school gave Mr. Kasit a Token of Appreciation followed by group photos. Dr. Husni presented the Individual Awards and awarded the Certificate of Loyalty to graduates who have been with PAIS since Kindergarten. Afterward, Alice delivered her speech and led the Oath taking of Batch 8 graduates. They wrapped up the ceremony with the graduates singing their farewell song, "Hall of Fame" by The Script.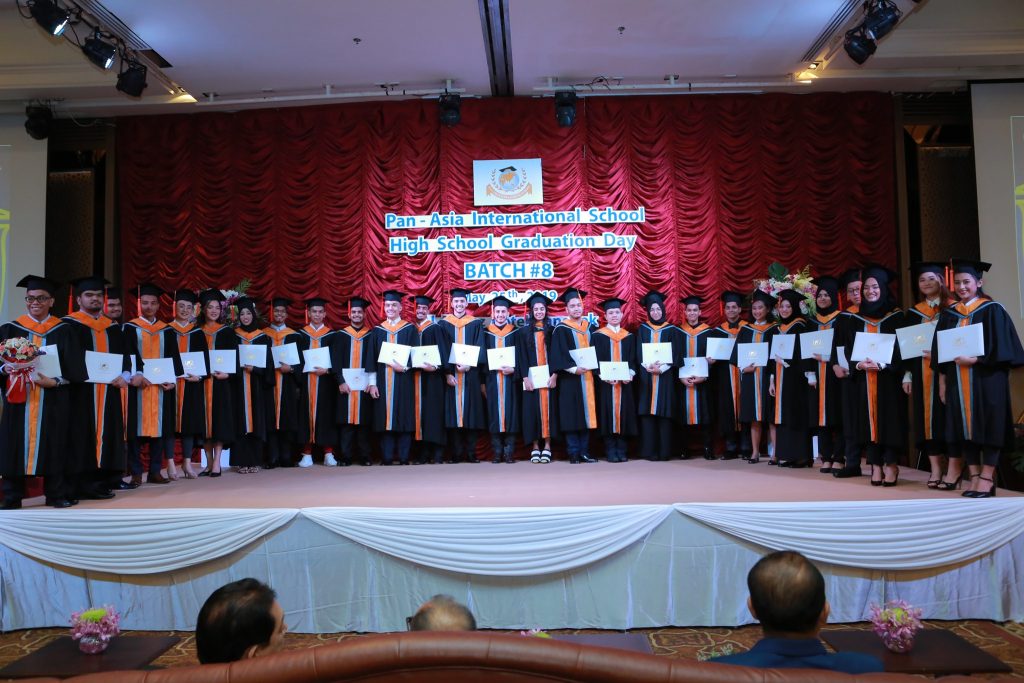 The whole ceremony was concluded with a video presentation of Grade 12's friendship and photos of their academic journey all through the years. There were Thai dance presentations performed by sisters Ayah and Malak Alawneh to the song Na-ka-la-to Au-go, and another one called "Chuean Kwan" performed by Palawee, Birdy, Cherry, and Faridah.
Two groups of student band also gave tribute to the graduates. The group of Book, Iya, Gina, and Sinjia performed the songs "Keep Holding On" and "Fireworks," while BJ, Phubet, Ebru, Omar, and Usama jived to the tunes of "The Best Day of my Life," "Last Goodbye," and "I Lived," by One Republic.