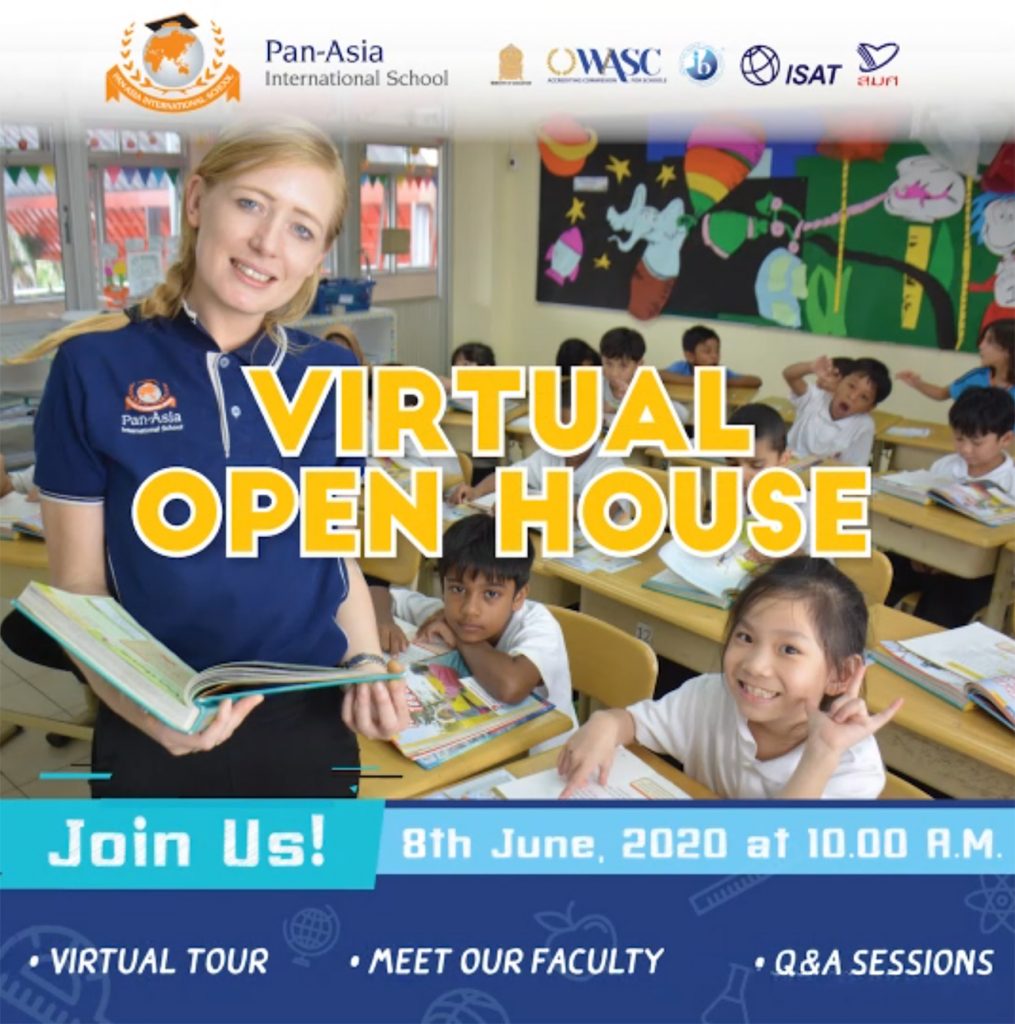 You are cordially invited to join Virtual Open House at Pan-Asia International School. The event will be held via Zoom on Monday 8th June, 2020 at 10.00 A.M.
Right now, we are waiving application fees for the 2020-2021 school year, so come visit us virtually and learn more.
Hear from our Managements, see the campus, explore our curriculum and find out how we support and care for your children to ensure that they learn, grow and discover their fullest potential.
So, get to know us. We look forward to the opportunity to get to know you!
โรงเรียนนานาชาติแพน-เอเซีย ขอเรียนเชิญท่านผู้ปกครองที่สนใจเข้าเยี่ยมชมโรงเรียนแบบเสมือนจริง(ใช้โปรแกรม Zoom) ในวันจันทร์ที่ 8 มิถุนายน 2563 เวลา 10.00 น.
สมัครวันนี้พร้อมรับส่วนลดพิเศษสำหรับปีการศึกษา 2020-2021 (จำนวนจำกัด)
ในการเยี่ยมชมแบบเสมือนจริงนี้ ท่านจะได้เยี่ยมชมโรงเรียน พูดคุยกับผู้บริหาร เกี่ยวกับหลักสูตร เพื่อค้นพบการดูแลนักเรียนของเราเพื่อที่จะมั่นใจว่านักเรียนจะได้เรียนรู้ เติบโต และค้นพบและใช้ศักยภาพในตัวของเขา
เรียนเชิญเพื่อทำความรู้จักกับโรงเรียนของเรา ทางโรงเรียนหวังว่าจะมีโอกาสที่จะได้รู้จักทุกท่าน
Meeting our students, touring the school campus, experiencing a lunch in our cafeteria, and meeting with members of Pan-Asia community is not comparable to anything. All it takes to call our Admission Office at 02-347-2280-3, or email marketing@pais.ac.th for an appointment.
Your visit to Pan-Asia usually includes:
A guided campus tour
A classroom visit
An all-school gathering (Auditorium)
A possible meeting with the Head of Sections
Your interview with an Admission Officer
The opportunity to have lunch with Pan-Asia community