Period of physical activity is getting limited day by day as we observe social distancing and staying at home while we are at the peak of #COVID19.  As we are about to have our long holidays, it is encouraged that we counter our inactivity to being active as #physicalactivity has lots of benefits to our health.
World Heart Organization and AHA recommends at least 150 mins of moderate intensity of activity per week (30 minutes moderate activity per day for 5 days/ wk.), or vigorous exercise of 75 minutes per week ( 15 minutes vigorous activity for 5 days/ wk.)
There are 6 guidelines of getting #physicallyactive when we are restricted to stay at home in isolation, namely:
1. Sit less, by taking regular breaks every 20-30 mins.
2. Make stairs your best friend.
Climb stairs fast for 20 seconds, making it 3x cycles.
3. Use your own bodyweight
Either tip toe exercise, wall push ups, squatting, one leg stands, sitting on air if one can't do those planks, sit ups, superman…a chair, a table, or a wall can aid the exercise. Do count 8 to 15 and good for 4 sets. Rest 1-2 minutes in between sets.
4. Dance the blues away.
Dancing protects the heart and doing it with a smile releases happy hormone " serotonin" which helps us cope during depressing times brought by #coronavirus.
5. Give time to play.
Observing #socialdistancing at home gives us time to "bond" with the rest of the family members, yourself and even with pets as we give time to play. Playing gives us time to get involved and time to be together while creating a meaningful experience with others through movement and fun.
6. Just do something.
If one is not in for any workout activities, chores as a form of physical activities is good enough and is considered as a form of exercises.
Keep physical activity as part of your routine even at home, and make it a daily thing to keep us healthy while in isolation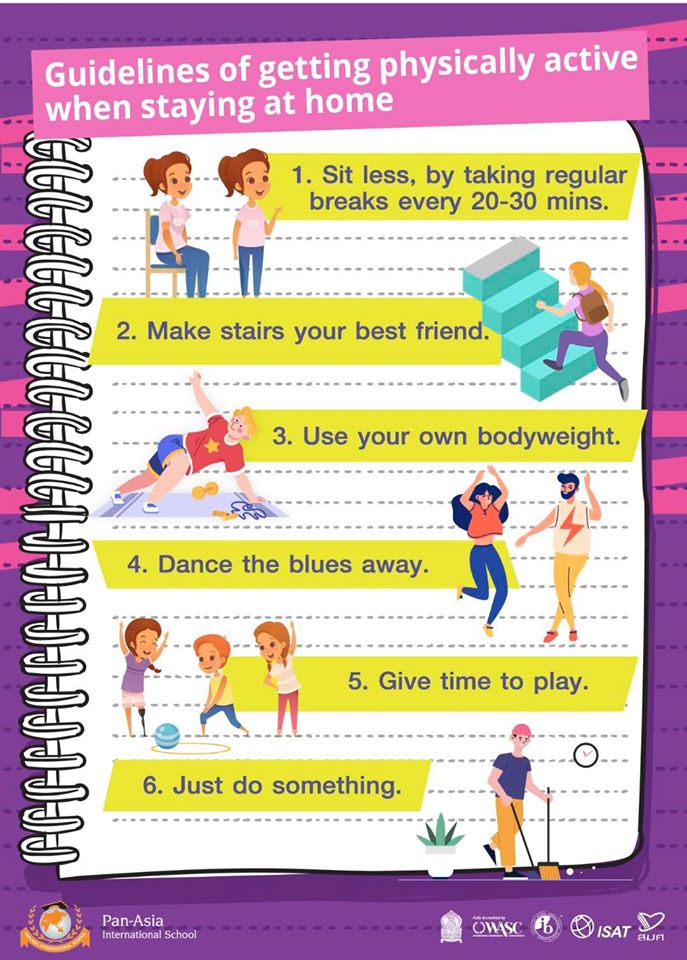 การประชุมทางไกลกับเนริสของโรงเรียนนานาชาติแพน-เอเซีย เพื่อให้ร่างกายแข็งแรงในช่วงของการพักอยู่ที่บ้าน
เนื่องจากการประกาศมาตรการป้องกันการแพร่ระบาด COVID-19 จึงทำให้เราทุกคนต้องเว้นระยะห่างทางสังคมและพักอยู่กับบ้าน และด้วยวันหยุดระยะยาวในช่วงนี้พวกเราควรที่จะใช้ช่วงเวลานี้ในการดูแลสุขภาพให้แข็งแรง
องค์การอนามัยโลก และAHA แนะนำให้ทำกิจกรรมหรือออกกำลังกายปานกลางอย่างน้อยสัปดาห์ละ 150 นาที (ประมาณวันละ 30นาทีต่อกิจกรรม เป็นระยะเวลา 5 วัน/ สัปดาห์) หรือออกกำลังการอย่างหนัก 75 นาที ต่อสัปดาห์ (ครั้งละ 15 นาที เป็นประจำทุกวัน 5 วัน/สัปดาห์)
แนวทางในการออกกำลังกายเมื่อต้องเก็บตัวอยู่ ดังนี้
1. Sit less โดยการหยุดพักเป็นประจำทุก ๆ 15 นาที
2. การไต่บันได โดยการไต่บันไดที่บ้านอย่างรวดเร็วเป็นเวลา 20 นาที ทำ 3 รอบ
3. การใช้น้ำหนักของคุณเอง โดยการออกกำลังกายปลายเท้า ดันผนัง นั่งยองๆ ยกขาข้างหนึ่งยืนบนอากาศ ซิทอัพ ทำท่าซุปเปอร์แมนโดยการใช้โต๊ะ เก้าอี้ หรือผนังช่วยในการออกกำลังกาย ทำการนับ 8-15 ครั้ง ทั้งหมด 4 และหยุดพักระหว่างเซต 1-2 นาที
4. Dance the blues away คือ การเต้นพร้อมรอยยิ้ม เพื่อการปลดปล่อยฮอร์โมนเซโรโทนิน ซึ่งเป็นฮอร์โมนแห่งความสุข
5. ปล่อยเวลาไปกับการเล่น คือ การให้เวลากับการเล่นทั้งกับคนในครอบครัว สัตว์เลี้ยง ซึ่งการเล่นจะทำให้ทุกคนมีส่วนร่วมและมีเวลาอยู่ด้วยกันและทำให้สร้างประสบการณ์และความประทับใจร่วมกัน
6. การทำอะไรบางอย่าง หากคุณไม่มีกิจกรรมการออกกำลังกายใดๆ การหากิจกรรมบางอย่างทำก็ถือเป็นการออกกำลังกายอย่างหนึ่งเช่นกัน
การออกกำลังกายเป็นส่วนหนึ่งของกิจวัตรประจำวันของคุณและทำให้ทุกวันเป็นวันที่มีสุขภาพดีได้แม้ว่าจะอยู่ที่บ้าน